Annual Golf Classic – Golf and Dinner Package
Annual Golf Classic – Golf and Dinner Package
$175.00
THIS TICKET PURCHASE IS FOR GOLF AND DINNER
St. Regis Knights of Columbus Annual Charity Golf Classic Honoring Dr. Louis Scotti
 June 4th, 2021
11:30 am Registration
1:00 pm Shotgun Start
Pine Ridge Golf Club Coram, NY
Buffet dinner
Description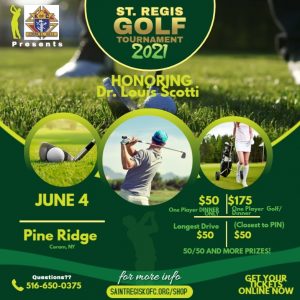 THIS TICKET PURCHASE IS FOR GOLF AND DINNER
AT THE CHECKOUT PUT YOUR NAME AND SHIRT SIZE
St. Regis Knights of Columbus Annual Charity Golf Classic Honoring Dr. Louis Scotti
 June 4th, 2021
11:30 am Registration
1:00 pm Shotgun Start
Pine Ridge Golf Club Coram, NY
Your Day Includes:
Lunch and Beverages at Noon
18 Holes of Golf
Golf Carts
Bucket of Balls at The Range
Dinner Following at St. Regis
With a Buffet Dinner and Open Bar
Cash Prizes For Longest Drive and Closest To The Pin
50/50 Drawing
Raffles
Player Starter Gifts
Free Laughs and Entertainment
You Will Not Be Disappointed!
Single players are welcome to attend and will be put into a foursome. At checkout please include your shirt size and NAME of each attendee (if you are buying multiple tickets)
Those who cannot attend the full days event are welcome to join us for dinner. Click here to attend DINNER ONLY
About Our Honoree
Dr. Louis Scotti has been active at St. Regis Council for over 10 years where he is a Fourth Degree Knight. He is very involved in the Boy Scout program in Suffolk County. He is the committee chairman for troop 272 based at St. Joseph's in Ronkonkoma. He is currently on the Executive Board of the Suffolk County Council, where he serves as the Vice President for Camping and Outdoor Programming. He also gives career talks to high school students through the Learning for Life Program. He has been honored by his unit with a Spark Plug Award and by Trailblazer District with the District Award of Merit. Suffolk County Council honored him with their highest volunteer recognition, the Silver Beaver Award. Louis is a member of the Ronkonkoma Rotary since 1986. He has been very active during his 3S-year tenure. He held various offices and responsibilities including president in 1990-1991. He has been involved in the Ronkonkoma Rotary's major fundraiser, the Run Around the Lake, since his induction into the club in 1986. He has served as chairman or co-director of the event for the last thirty years, raising over $800,000 for such worthy causes as the Gift of Life Program, Association for Mental Health and Wellness, and numerous Veteran's Causes here on Long Island. In 1988 he was honored as a Paul Harris Fellow, an award given to signify a significant donation in one's name to the Rotary Foundation. He has since been so honored five additional times. He was also named the Ronkonkoma Rotary's Heart and Soul award recipient in 200 I. Louis resides in Nesconset with his lovely wife Mary where he conducts his practice of Podiatric Medicine and Surgery. They have been married for 35 years, and have 2 sons,
Steven and Joseph and 3 wonderful grandchildren. He is on staff at Saint Catherine of Siena in Smithtown. He is Board Certified in Podiatric Medicine. He is a past Vice President of the Suffolk County Podiatric Medical Association and has coordinated numerous medical seminars for both the Hospital and the Podiatry Association. He also owns an Internet distribution company, LNM
Enterprises, which puts together consumer communities for the E-commerce industry. He is a Past-President of the Nesconset Chamber of Commerce, Lou was honored by the Mac Arthur Business Alliance in 2009 for his Volunteerism & Outstanding Community Service with the Jerry Brewi Award.
Directions to the Pine Ridge Golf Club 
From the West
• Take the Long Island Exp East to Exit 63 toward
CR-83 North Ocean Ave / Mt. Sinai-Patchogue
• Make the first left onto North Ocean Ave/CR-83 North
• Turn right onto Pine Road
• Make the first right onto Avalon Pines Drive
• Pine Ridge Clubhouse will be on left side
From the East
• Take the Long Island Exp West to Exit 63 toward
CR-83 North Ocean Ave / Mt.Sinai-Patchogue
• Make the first right onto North Ocean Ave/CR-83 North
• Turn right onto Pine Road
• Make first right onto Avalon Pines Drive
• Pine Ridge Clubhouse will be on left side
Attire
Proper golf attire at all times. All shirts should have collars and sleeves. No cutoff shorts, short shorts, denim jeans,jogging clothes, sweat suits or tank tops. Pine Ridge Golf Club is a soft spike facility. No metal spikes allowed. All golfers are reminded to fix all marks made in the sand trap. Golf carts must obey signs and rules at all times.