4th Annual Octoberfest
$100.00
GRAND PRIZE
Authentic German Food / Beer / Under a 500 Person Bavarian Tent
German Sing-a-long Contest / DJ Dancing / Parking lot Olympics
Plus One $10,000.00 Raffle Ticket
TO GET YOUR TICKETS STOP DOWN TO ST. REGIS BAR AFTER 7PM or buy now!
Dear Brother Knights and Sister Columbiettes,
Thank you for your support last year. Your efforts not only raised money for
Autism Speaks, but many other local charities as well as our council. You, the
members, made last years Oktoberfest a huge success! First, we are very happy
to announce that this year's primary charity will be The Leukemia & Lymphoma
Society. In addition to this fantastic charity, we will, as always be donating money
to St. Joseph's and many other charities who do so much for our community.
We are also excited to be honoring as this year's Biermeister, GK John Harris.
Every $100.00 raffle ticket includes:
2 Person Admission
Food, Beer, Wine and Soda
1 Chance for $10,000.00 Grand Prize**
Multiple Cash Prizes
2 Chances for the Door Prize
DJ Dancing
Oktoberfest Sing-a-longs
Tailgate Olympics
Description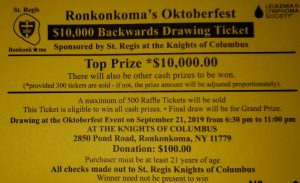 Every $100.00 raffle ticket includes:
2 Person Admission
Food, Beer, Wine and Soda
1 Chance for $10,000.00 Grand Prize**
Multiple Cash Prizes
2 Chances for the Door Prize
DJ Dancing
Oktoberfest Sing-a-longs
Tailgate Olympics