Please scroll down for latest news about the council: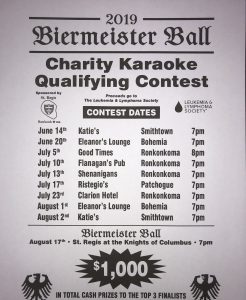 June 30 Sunday Dedication of our Shire to the Blessed Mother Council Entrance in Memory of PGK Antonio Vitalino immediately after 12 pm Mass at St. Joseph's Church (repast following ceremony) Evening – Member's Lounge – Passing of the Gavel
July 4 Thursday Independence Day
July 5 Friday Karaoke Good Times Bar 8pm
July 7 Sunday Vet's Home Stoney Brook
July 10 Wednesday Calendar Meeting 7:30pm
Karaoke Flanagan's 7pm
July 13 Saturday Karaoke Shenanigans 7pm
July 14 Sunday Memorial Mass St Joseph 9am
July 17 Wednesday Business Meeting 7:30pm
Karaoke Ristegio's 7pm
July 23 Tuesday Karaoke Clarion Hotel 7pm
August 1 Thursday Karaoke Eleanor's Lounge 7pm
August 2 Friday Karaoke Katie's Bar 7pm
Website has been updated on 6/22/19 with the all new member only calendar of events and more! Remember this is a password protected area. If you do not know the password, please go here and contact us !
Be sure to add your email to our newsletter to be informed of new and exciting things going on at our council! You don't want to miss out!
Check back on this website all the time!
Who knows there may be a prize just for visiting the site waiting for you! 🙂

Revision: SLB12 6/24/19