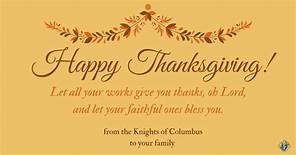 LAND OF THE FREE BECAUSE OF THE BRAVE
                        Make certain to mark your calendars for these upcoming events:
November 1   Thursday                          All Saints Day
November 3   Sunday                             Columbiettes Family Bowling
November 4   Monday                           Officers Meeting
November 5   Tuesday                           Election Day get out and Vote
November 6   Wednesday                       Business meeting 8pm
November 9-10 Saturday-Sunday               Knights bake sale at St Joseph church masses
November 17 Sunday                              Memorial Mass St Joseph Church 9am
November 20 Wednesday                       Mass at 8pm
November 21 Thursday                          State Conference meeting 7pm
November 28 Thursday                          Thanksgiving Day Council closed
November 29 Friday                              Decorating the council
Website has been updated on 10/31/19 with the all new member only calendar of events and more! Remember this is a password protected area. If you do not know the password, please go here and contact us !
Be sure to add your email to our newsletter to be informed of new and exciting things going on at our council! You don't want to miss out!
Check back on this website all the time!
 🙂

Revision: SLB17 10/31/19