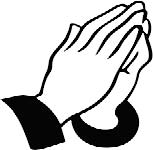 Good and Welfare
Welcome Autumn, Summer is over! The Columbiette Yard sell will be held on Sunday, October 14 from 9-5 in the Knights of Columbus parking lot. Stop over after Mass or in the afternoon to find your treasure. Come out to support, spend some time with friends, we will also be selling hot dogs and soda. If interested in having a table it may not be too late, give me a call at 631-588-2453.
Our prayers continue for Columbiettes Nina Makowicz, Josie McGarry, Past President Eppie Larke, Carol Ellis, Past President Cathy West, MaryAnn Rossi and Anna (Nancy) Schramm who have been ill or are recovering from medical procedures over the past months. Prayers go out to all our sister Columbiettes and brother Knights who have been ill, have lost a loved one and those who are in nursing facilities.
Congratulations to Nick and Nancy Morreale on the wedding of their daughter Candice to T.J. Newman. Best wishes to the happy couple.
If you know of any Columbiette who is in need of a card or visit or if you have any good news to share, please contact me, Vivian McCourt, Columbiette Vice President at 631 588-2453 or email me at izmira1@ aol.com. Leave a message and I will get back to you, stay happy and healthy.
See you at the next meeting.
Vivian